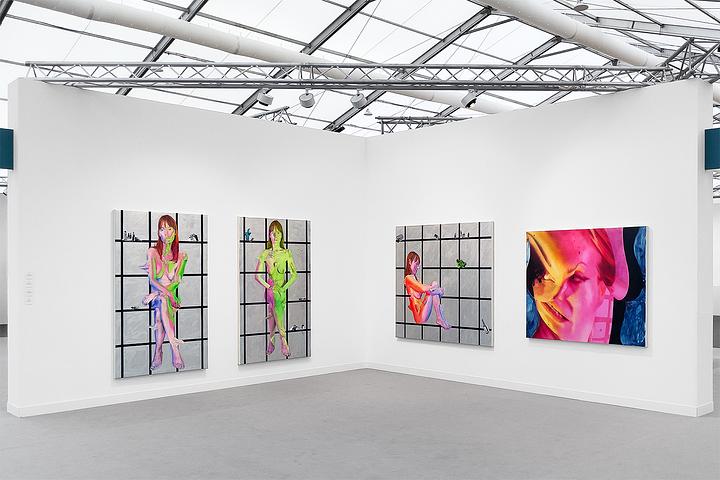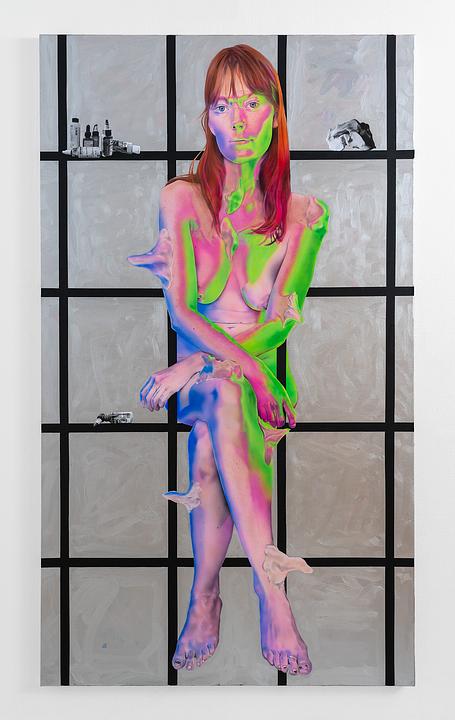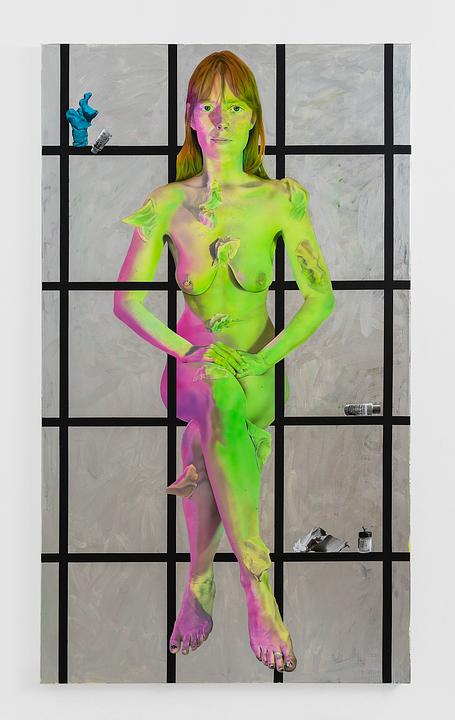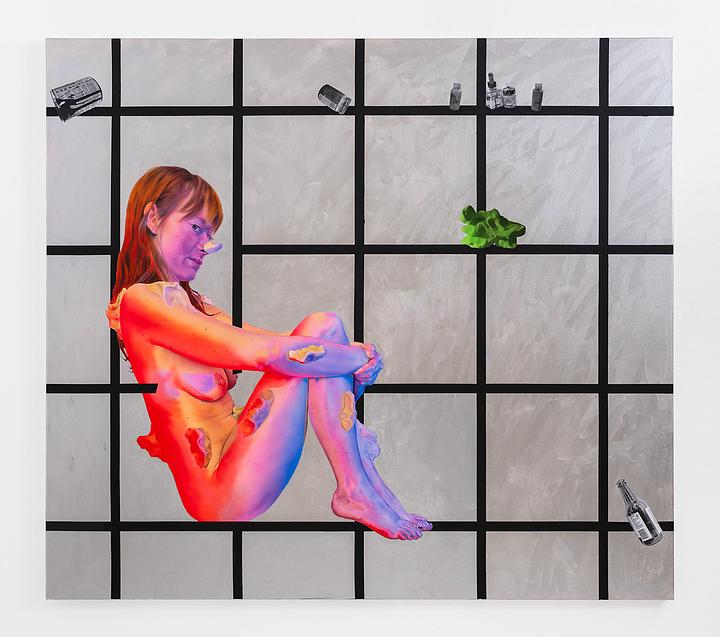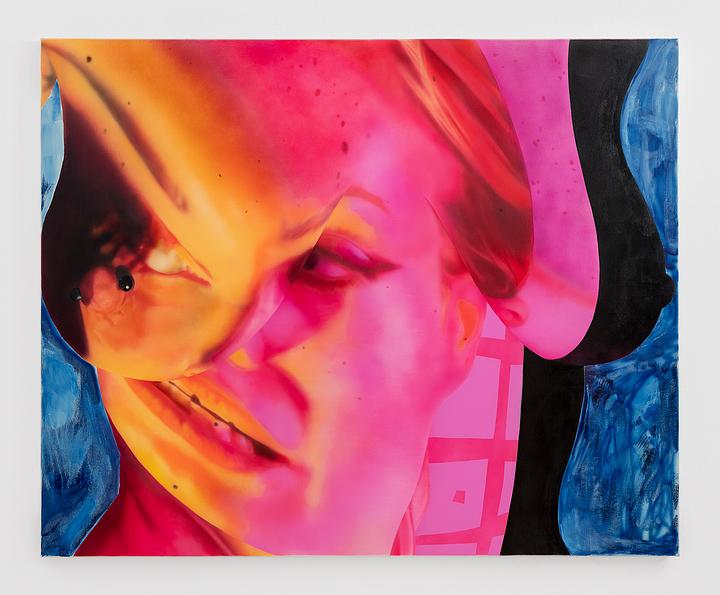 Zoe Barcza's paintings center on the human body as a site of investigation for various cultural, political, and social forces. The figures that dominate her canvases maintain a high degree of realism, pierced by caricature and the imagined impacts of cultural intercedents. Confrontational text often surrounds Barcza's exaggerated figures, masquerading as corporate slogans, feminist mantras, teenage confessions and more, as the artist navigates various cultural niches with a combination of sincere interest and satirical remove.
Barcza's new paintings depict the female figure augmented by mysterious futuristic conditions, posed alongside signifiers of the studio—slyly pitting fantasy against materiality. Bathed in unnatural gel light glows of red, green and violet, her subject's skin is grafted with flesh colored prosthetics, raised extensions of the flesh that suggest evolutionary transformation or alien hybridization. Alluding to the body horror of David Cronenberg and the post-apocalyptic visions of H.R. Giger, Barcza's smooth rendering aligns her style with science fiction and fantasy illustration. Yet just as Barcza employs the techniques used to conjure seamless invented worlds, she also punctures this verisimilitude with deliberate attention to quotidien detail, as well as the studio itself: her model's toe ring, slight tonal differences between prosthetics and skin, leftover putty and tubes of paint. With this artifice the new works recall the masticated scars of Hannah Wilke's photography, engaging the social concerns of early feminist art and further complicating their dichotomy between corporeal authenticity and conjured illusion. Barcza's new paintings carve a space between homage and parody, demonstrating the playful balance between engagement and irreverence that engenders the precise humor of her oeuvre.
Zoe Barcza (b. 1984, Toronto) lives and works between Stockholm and Los Angeles. Recent solo exhibitions include Darren Flook/Freehouse, London (2022); Issues, Stockholm (2021); Bianca D'Allesandro, Copenhagen (2021, 2018); Bodega (Derosia) (2020); Croy Nielsen, Vienna (2018); and Bonny Poon, Paris (2018). Select group shows include Baader-Meinhof, Omaha (2021); Galerie Schmid, Chicago (2021); Anno Domini, New York (2020); Haus der Kunst, Oslo (2020); The Loon, Toronto (2019, 2018); Giverna Gambino (Cologne) (2019); and Centre d'art contemporain - la synagogue de Delme, Delme, France (2019).