Honey
September 13–October 21, 2018
Honey

September 13–October 21, 2018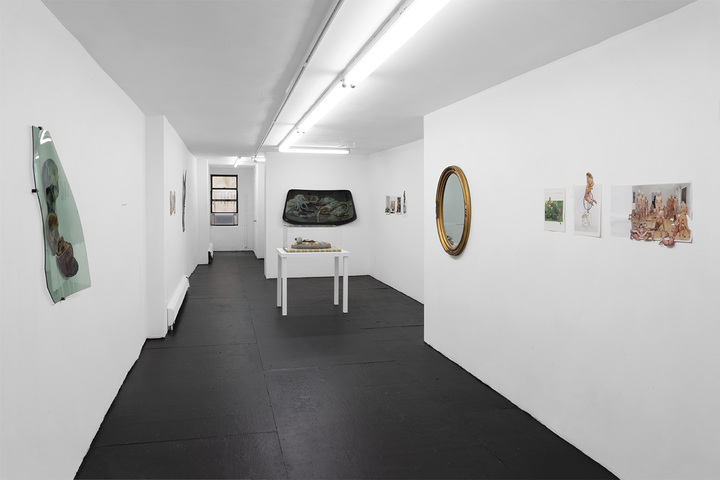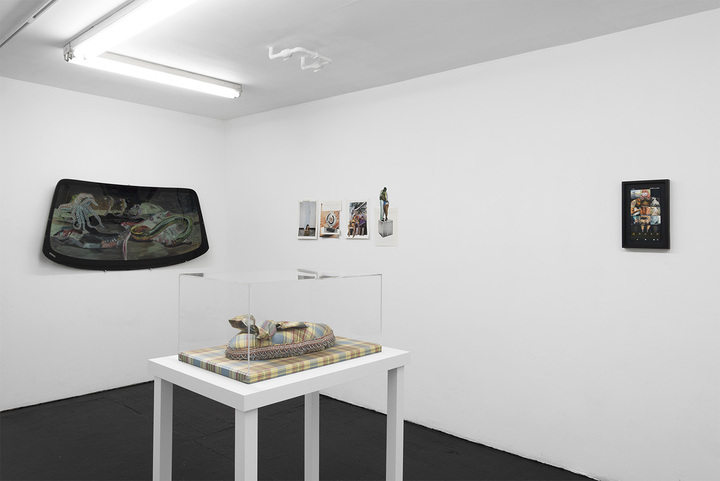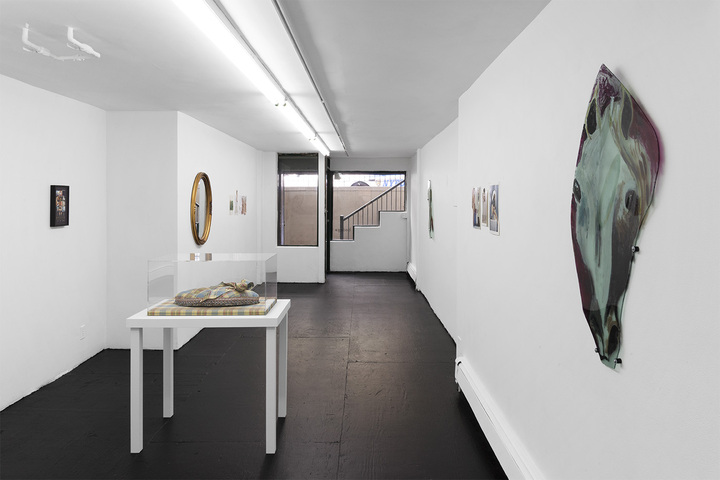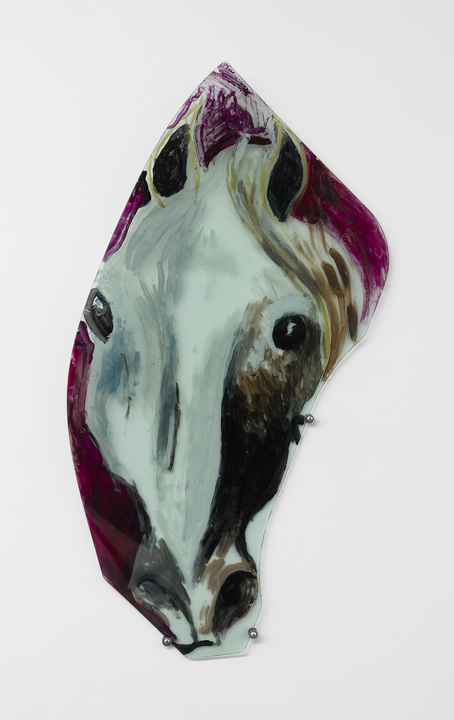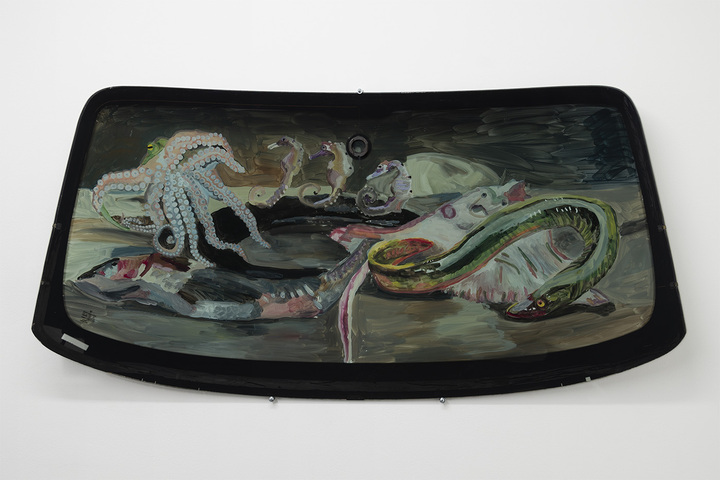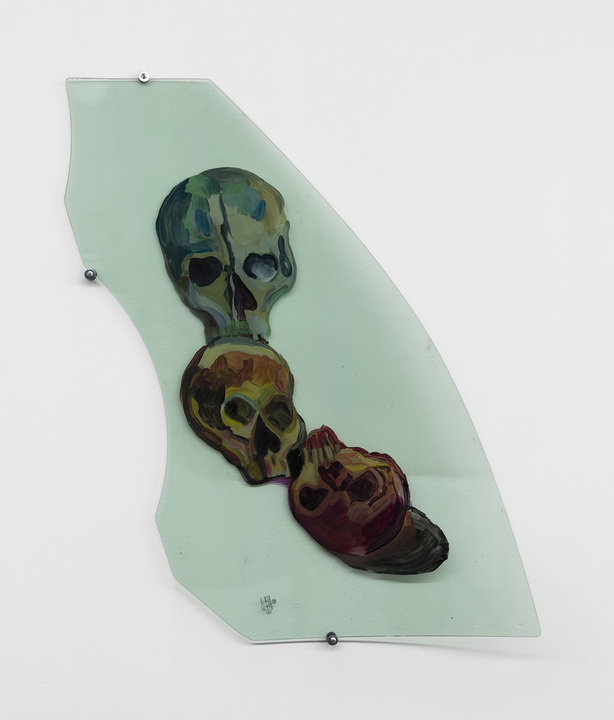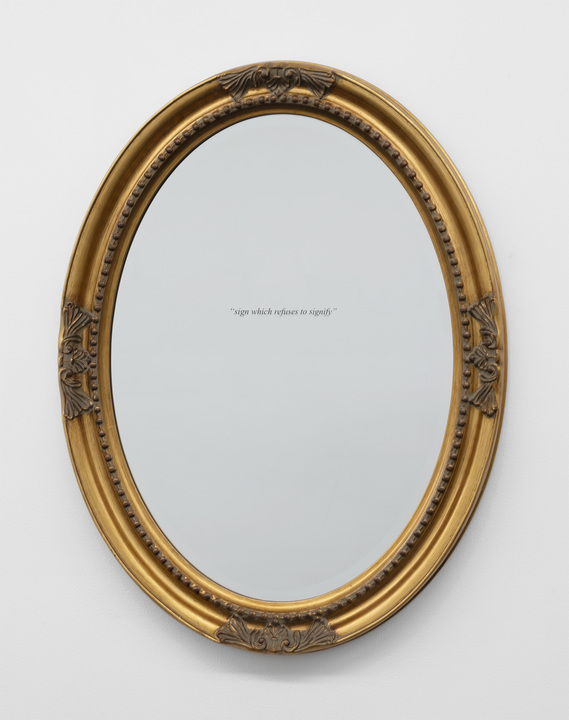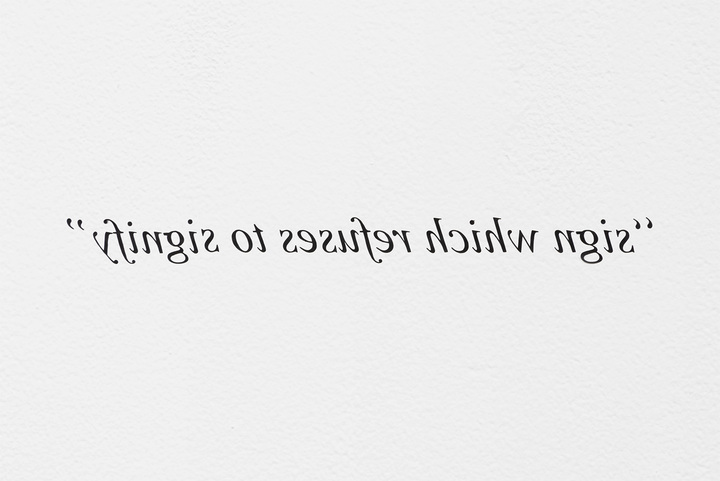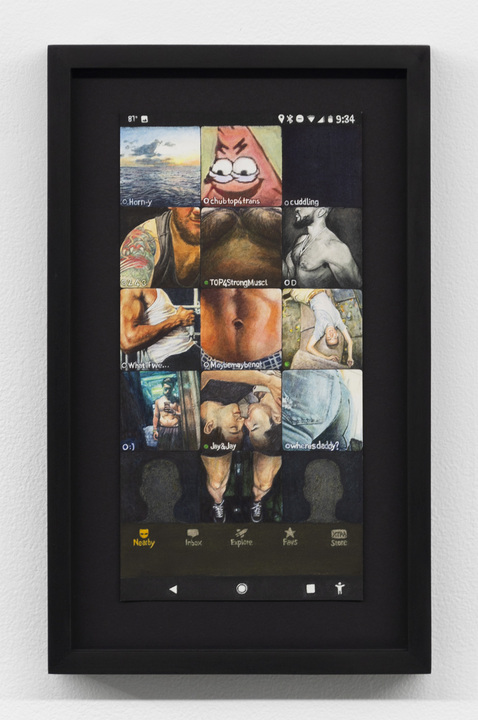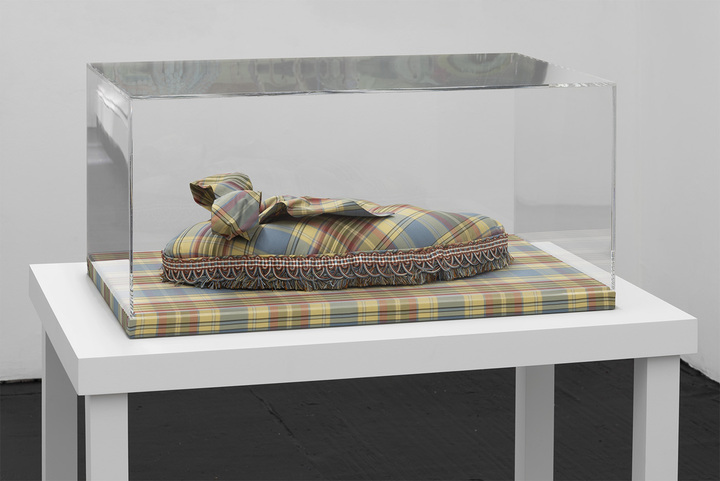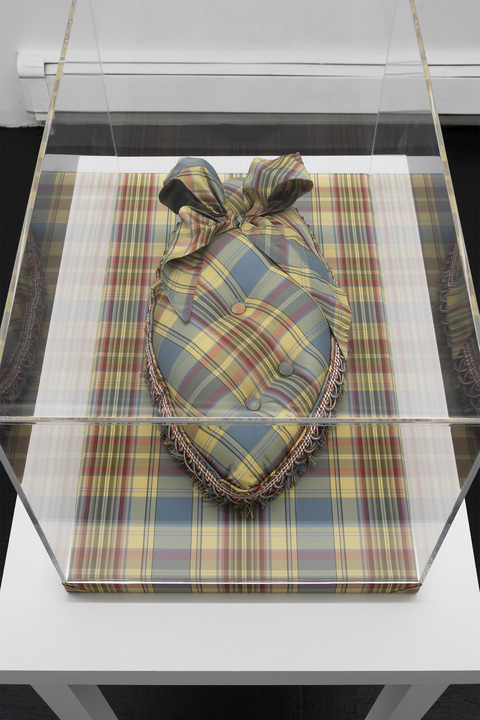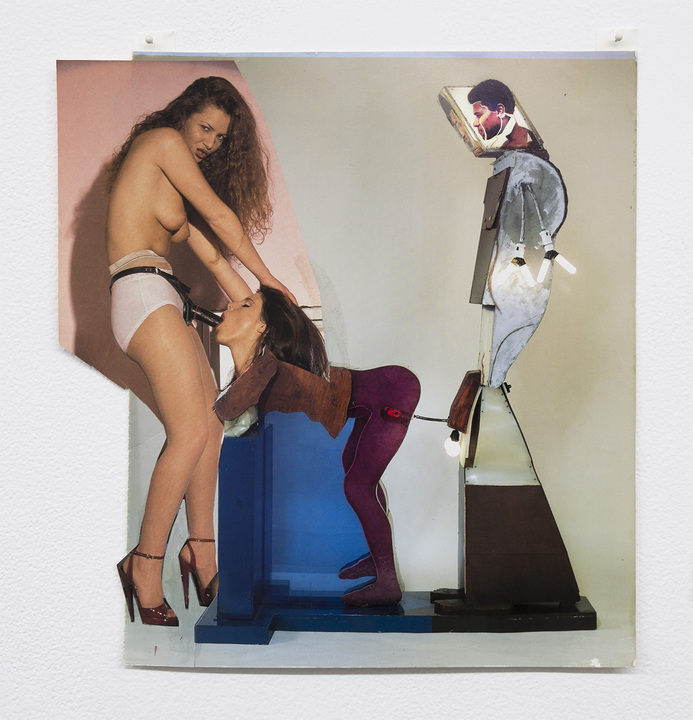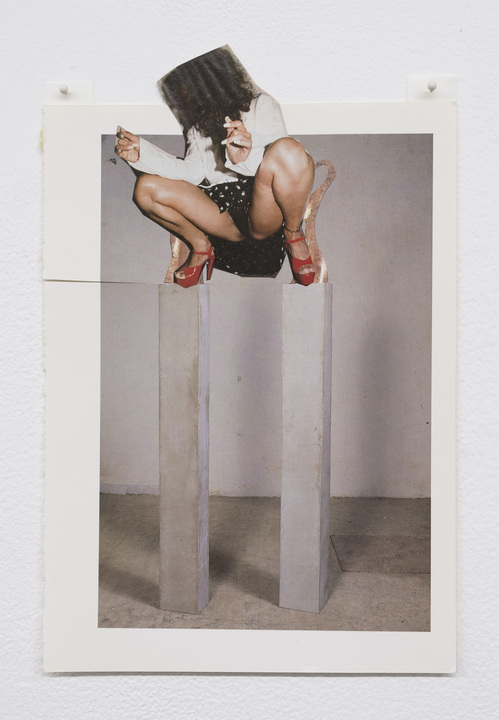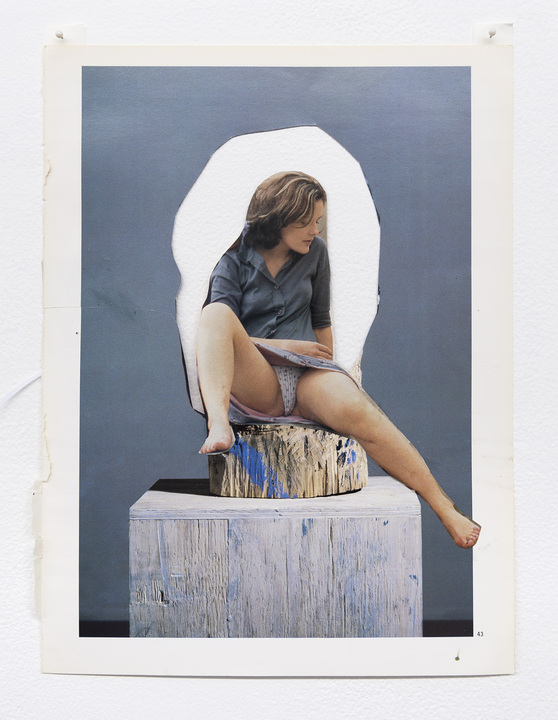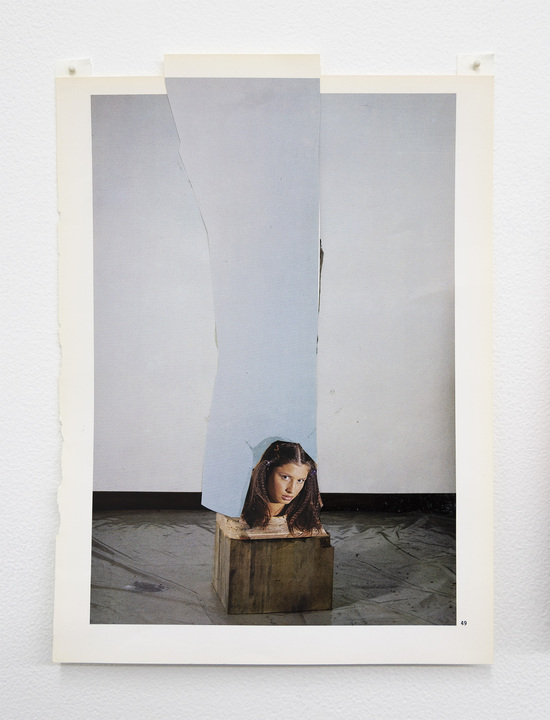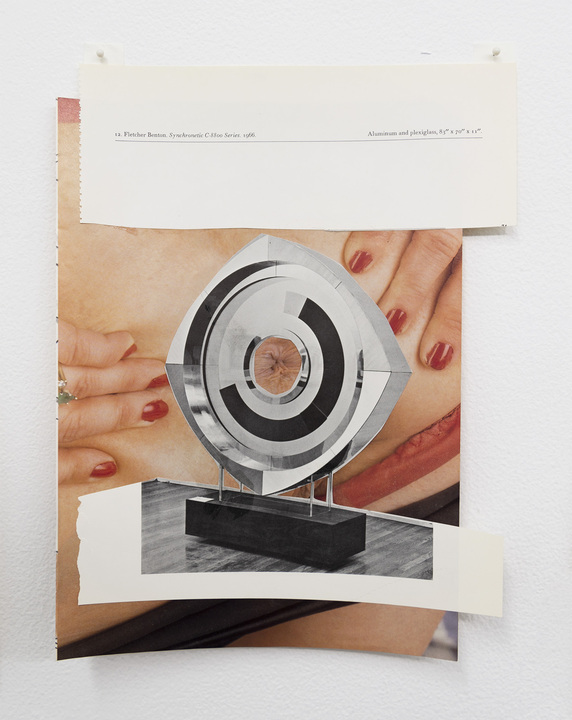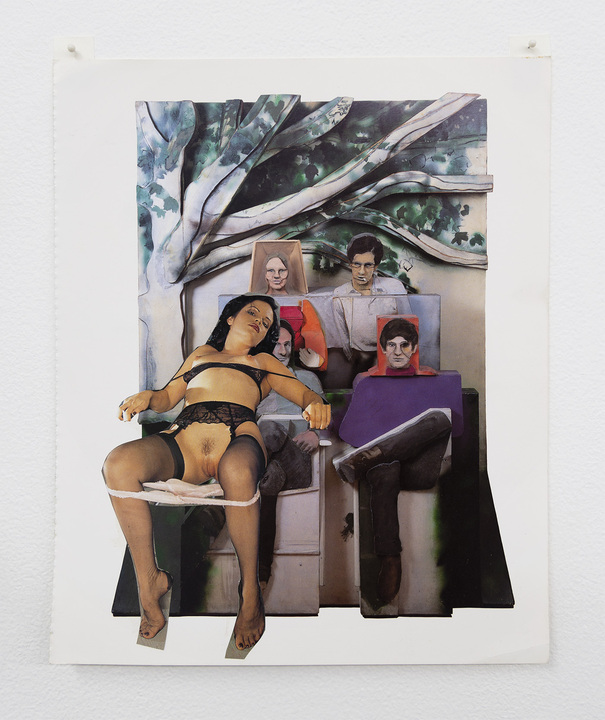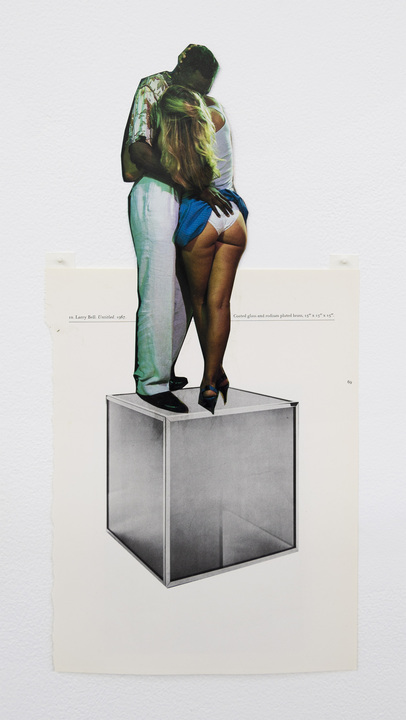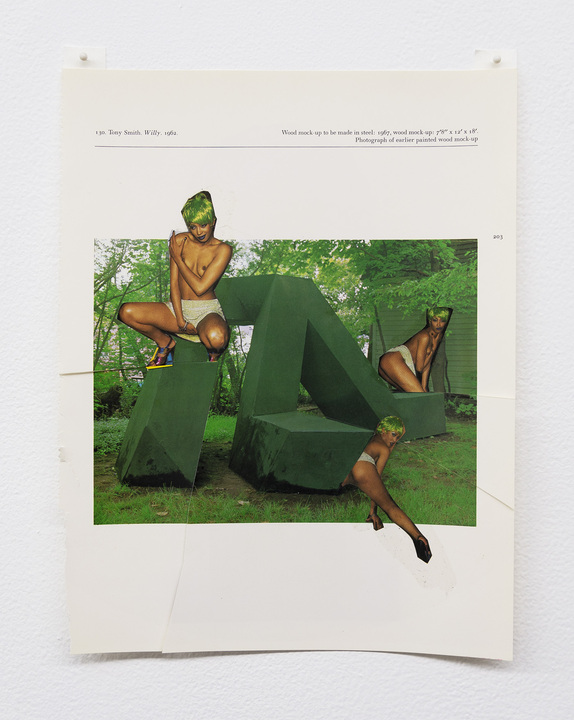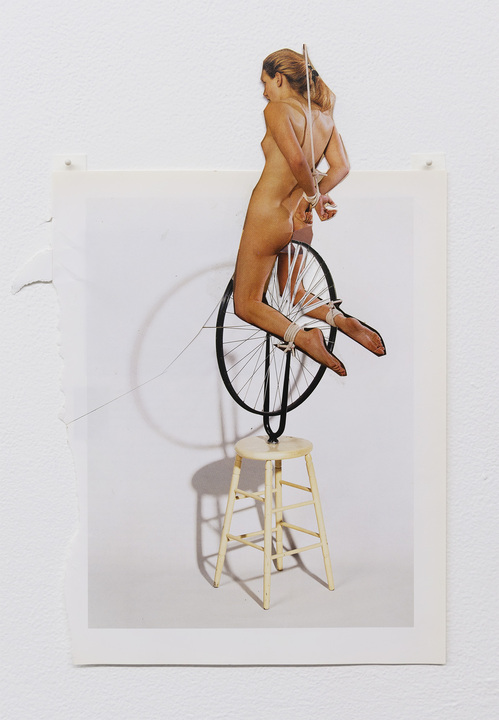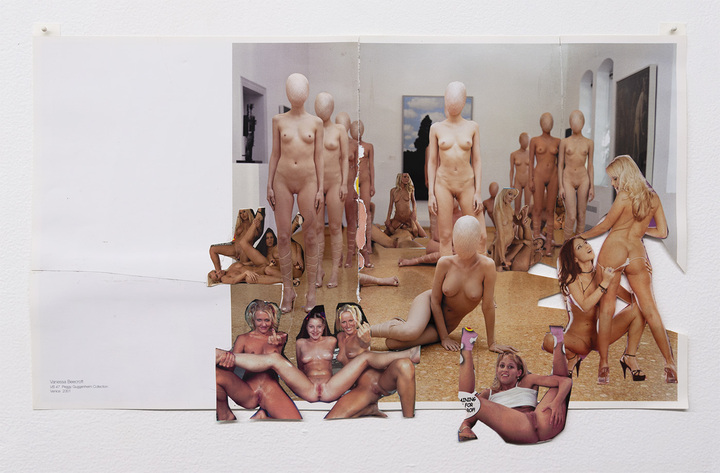 Bodega is happy to present a group exhibition of the work of 5 artists.
Jill Mulleady's three paintings on disembodied car windows are created in reverse—the first marks made are those closest to the surface. The speed embedded in the material support and the method of painting contrasts with the work's spectral imagery: sea creatures on the ocean floor, the face of a horse, and a collection of three skulls.
Narcissister's collages combine pages from modern and contemporary art books with figures from adult magazines, highlighting relationships between race, class, gender and sexuality in dominant art narratives. Narcissister is widely known for her performances and sculpture that incorporate live bodies and these collages constitute research for unrealized or unrealizable sculpture.
Mitchell Algus's ornately tufted pillow, Doll V, rests in a clear vitrine. It is the most recent in a decades-spanning series of hand-made pillows, or "dolls." Algus's studio practice runs alongside his eponymous New York gallery, founded in the early 90s.
Stewart Uoo's Fuck Them All (Test) depicts multiple Grindr profile pics arranged in a grid to form a larger figure. Grindr is a geosocial mobile app designed to help men meet other men in their area and is widely used for casual hookups.
Aria Dean's work, cipher (3), is comprised of a wall text written in reverse coupled with a baroque mirror on an opposing wall with which to read the text conventionally. The structure of the work places the viewer between the original text and its method of transmission. This is the third in a three-part series referencing Ad Reinhardt quotes and refers to a previous work that included Reinhardt's quote in an encrypted format.




Mitchell Algus lives and works in New York. His work has been shown at 47 Canal, New York; doyers, New York; Licha Jimenez Gallery, New York; Pat Hearn Gallery, New York; Articule, Montreal; and Spark Gallery, Denver. He has run his eponymous gallery for 26 years and is known for championing under recognized artists early on, such as Lee Lozano, Barkley Hendricks, Betty Tompkins, Joan Semmel, Martha Wilson, and Judith Bernstein.
Aria Dean (b. 1993, Los Angeles) is an artist, writer and curator based in Los Angeles and New York. She currently holds the position of Assistant Curator of Net Art & Digital Culture at Rhizome. Her writing has been featured in Texte zur Kunst, Artforum.com, Art in America, The New Inquiry, Spike Art Quarterly, Real Life Magazine, Topical Cream Magazine, Mousse Magazine, CURA Magazine, Kaleidoscope, and X-TRA Contemporary Art Quarterly. Recent solo and two-person exhibitions include lonesome crowded west, Château Shatto, Los Angeles; Gut Pinch, The Sunroom, Richmond; White Ppl Think I'm Radical, Arcadia Missa, London; and Baby is a Cool Machine, American Medium, New York. Dean has exhibited work in group exhibitions at the De Young Museum, San Francisco; Schinkel Pavillon, Berlin; Air de Paris, Paris; Knockdown Center, New York; AALA, Los Angeles; Foxy Production, New York; and Ghebaly Gallery, Los Angeles. Dean has presented talks and performances at the Swiss Institute, New York; Hammer Museum, Los Angeles; New Museum, New York; University of California, Los Angeles; The New School, New York; and Machine Project, Los Angeles. She also co-directs the project space, As It Stands, Los Angeles.
Narcissister is a Brooklyn-based artist and performer. Masked and merkin-ed, she works at the intersection of dance, art, and activism in a range of media including film, video art, and experimental music. She has presented work worldwide at festivals, nightclubs, museums, and galleries. She won "Best Use of a Sex Toy" at The Good Vibrations Erotic Film Festival, a Bessie Award nomination for the theatrical performance of Organ Player, Creative Capital and United States Artists Awards, and, interested in troubling the popular entertainment and experimental art divide, she appeared on America's Got Talent. Her first feature film, Narcissister Organ Player, premiered at Sundance and SXSW Film Festivals 2018 and she recently completed the Sundance Theatre Lab for the creation of a new theatrical work with playwright Branden Jacobs Jenkins.
Jill Mulleady (b. Montevideo, UR 1980) lives and works in Los Angeles. Recent solo exhibitions include Schloss, Oslo; Kunsthalle Bern; Freedman Fitzpatrick, Los Angeles; Gaudel De Stampa, Paris; Museo Archeologico Nazionale, Napoli; LA Conversation, in collaboration with Jenny's, Los Angeles. Recent group shows include: Matthew Marks, New York; Hauser & Wirth, London; MD72/Galerie Neu, Berlin; Fitzpatrick-Leland House, MAK; and Simon Lee Gallery. Her work belongs to the collections of The Hirshhorn Museum, Washington, DC, the Hammer Museum, Los Angeles and the Rubell Family Collection, Miami.
Stewart Uoo (b. 1985) lives and works in New York City. He received his BFA from the California College of Arts in 2007, and his Meisterschule from Städelschule HFBK in 2012. In 2013 he had a two person exhibition, Outside Inside Sensibility, curated by Jay Sanders at the Whitney Museum of American Art. Recently his work has been exhibited at the K11 Art Museum, Shanghai; David Roberts Art Foundation, London; the Aïshti Foundation, Jal el Dib, Lebanon; MoMA PS1, New York; ICA London; The Fridericianum, Kassel; The 10th Gwangju Biennale; The 14th Venice Architecture Biennale; and Kunsthalle Oslo. His work is included in several public collections including the Aïshti Foundation, Jal el Dib, Lebanon; The Whitney Museum of American Art; and the Rubell Family Collection. In 2015, he received the Louis Comfort Tiffany Foundation Award; in 2013 the FUN FELLOWSHIP GRANT from the Museum of Arts and Design, New York; and in 2011 the CGV Pre Real Estate Prize. Stewart Uoo is represented by 47 Canal, New York, and Galerie Buchholz, Cologne/Berlin/New York.